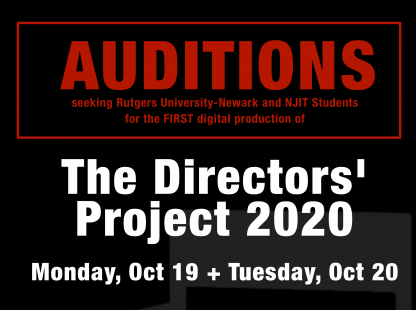 Auditions
THE DIRECTORS' PROJECT 2020
Audition process. [UPDATED]
Fill out audition form HERE
We will host virtual auditions on WEBEX on Oct. 19 and 20.
If we have callbacks you can expect to be called on Oct. 21. Expect to be called between 6 and 9 pm.
You will do cold readings from the plays we are considering. You may not read for a role you are ultimately cast in. 
Sign up for an Audition Slot HERE
VIDEO CONFERENCING LINK: (UPDATED)
https://njit.webex.com/njit/j.php?MTID=m6e760cd1867358f2fbe20be2f2e5f77d
Password: Fall2020
Any questions? Email theatre@njit.edu