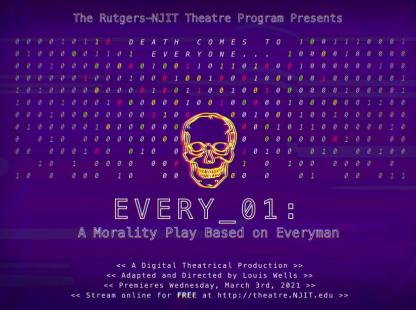 Every_01
Every_01: A Morality Play based on Everyman
Adapted and Directed by Louis Wells this digital theatrical production combines elements of theatre, film and remote technology to produce a unique performance of the late 15th century morality play.
This production of Everyman, titled EVERY_01 is meant to connect to the world around us at this specific moment in time.
The original script is populated with personifications of Death, Good Deeds, Knowledge and Friendship. In this 2021 production a world is created that brings those personifications to life with an eye for our modern-day audience.
This half-hour presentation will be available for streaming online at our NJIT Theatre Arts and Technology website: http://theatre.njit.edu/ beginning on Wednesday, March 3rd at 7pm ET.