Interested Musicians for Ensembles:  music@njit.edu
Concert Information on Theatre Arts and Technology homepage: theatre.njit.edu 
About the music initiative: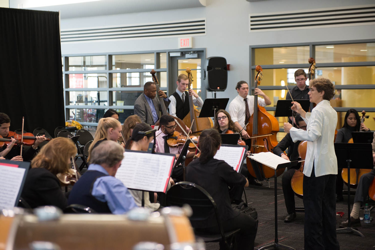 In response to the enthusiasm expressed by hundreds of NJIT students and community members, the String, Wind, and Jazz ensembles were formed as part of the Music Initiative at NJIT.  Since its inception, the Music Initiative has received enthusiastic support from the NJIT administration, especially the Office of the Provost, the Office of the Vice President for Academic Support and Student Services, the Office of the Dean of Students, and the Humanities Department's Theatre Arts and Technology Program.  The NJIT Student Senate and the Graduate Students Association have also been strong supporters, and philanthropic support has come from grants provided by the Bergen Foundation and the Rauch Family Foundation.
Students who are interested in continuing their musical development can follow their passion throughout their time at NJIT. There are three one-credit courses corresponding to the three ensembles which you can register for up to three times, giving three free-elective credits.  It is recommended to register for the course, but not required in order to participate in the ensembles.
THTR 220, 221, 222 Instrumental Ensemble Performance, one offered each semester.
This is the rehearsal schedule for each ensemble:
Jazz Ensemble meets Tuesday evenings:  7:00 until 9:00 pm
Wind Ensemble meets Wednesday evenings:  4:00 until 6:00 pm
String Ensemble meets Thursday evenings:  4:00 until 6:00 pm
The Music Initiative also sponsors guest performances throughout the academic year that are free to NJIT, Rutgers University-Newark and surrounding communities.
Collaborations are developed with the Rutgers University- Newark Chorus, and the Rutgers Mosaic Jazz Group.  All students, undergraduate and graduate, as well as faculty and staff are welcome and are encouraged to participate.  This is a unique opportunity to get to know and work with peers, professors, and others to enhance your experience at NJIT and truly become part of the diverse campus community. 
Our Conductors:
Wind Ensemble:
Nicholas Santoro, Conductor of the Wind Ensemble, serves as Music Director and Founder of the Central Jersey Wind Ensemble and Music Director of the Rutgers University Alumni Wind Symphony. He has been Guest Conductor for numerous ensembles, ranging from the NJ All-State Brass Ensemble to the NJ Region II Wind Ensemble, Symphonic Band and Jazz Ensemble, the Region III Symphonic Band, the All-Shore Symphonic Band and the Rutgers Honors Band. He is active as a trumpet performer and has been performed with the NJ State Opera Orchestra, Monmouth Symphony, Atlantic Brass Band, Toms River Municipal Band and the Jimmy Dorsey and Sammy Kaye Orchestras. As a music educator, he was a band and orchestra director and Arts Supervisor for over 37 years. He now serves as an Adjunct Instructor supervising Student Teachers for the Mason Gross School of the Arts, Montclair State University, Rowan University, and Ithaca College.
String Ensemble: 
Christine Sweet received her undergraduate degree in cello performance at Indiana University Jacobs School of Music in Bloomington Indiana and earned her Master of Arts Degree from Teachers College, Columbia University.  While at Indiana University Ms. Sweet was a member of the Evansville Philharmonic, Terre Haute Symphony and the Owensboro Symphony. Ms. Sweet joined NJIT as the String Ensemble Director this past January. Ms. Sweet also holds the position as orchestra director at Arts High School where she has been teaching for the past decade.  While at Arts High School, Ms. Sweet has formed collaborations with New Jersey Symphony Orchestra, New Jersey Festival Orchestra, and the Newark School of the Arts providing lessons, master classes and performances for the Newark students. As a cellist Ms. Sweet has performed with the New Jersey Symphony Orchestra, Paper Mill Playhouse, New Jersey Pops, and the Colorado Music Festival.
Jazz Band:  
David Rimelis' music has been performed by orchestras internationally, including the Boston Pops, National Symphony, Royal Liverpool Philharmonic, Saint Louis Symphony, Baltimore Symphony, Western Australia Symphony, Minnesota Symphony, Atlanta Symphony, Louisiana Philharmonic, Nashville Symphony, New Jersey Symphony, the Mel Lewis Jazz Orchestra the New York pops and the New Jersey pops. He has been featured artist with the Colorado Symphony, Eugene Oregon Symphony, Waco Texas Symphony, Concordia Orchestra, Plainfield New Jersey Symphony and many others.
He holds a position as artist-in-residence for the New Jersey State Council on The Arts . He is also Director of Music Education for the AIDS Resource Foundation for Children in Newark, New Jersey. He has served as composer-in-residence for the Concordia Orchestra in New York City from 1990 - 2002. In 2007 Dave was commissioned by the Louisiana Philharmonic to compose a piece dedicated to New Orleans in the wake of Hurricane Katrina.   In 2010 Dave was commissioned by the Baltimore Symphony to compose an anthem and recently took third place in Fiddler Magazine's international fiddle tune contest. 
His music is also featured in films and television programs.   As a guitarist and violinist, Rimelis has toured the United States, South America, Canada, Mexico, Europe, and the Middle East.  He is the founder and leader of the band "Life," which performs original world jazz.  The son of country western singer "Idaho Ed,"  Rimelis was raised on American folk and popular music; he has won prizes in a number of regional fiddle contests.